Free Flow Power is developing hydrokinetic generation and new conventional hydropower generation on existing dams to extract clean renewable energy from moving water without building new dams or diversions. Mr. Youlen is the former head of North American Generation Development for Brookfield Renewable Power where he was responsible for development activities for hundreds of hydropower, pumped storage, and wind projects. Prior to development at Brookfield, he was VP Operations for 75 operating hydroelectric facilities in four states.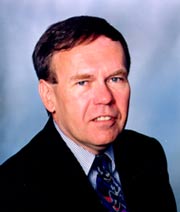 Mr. Youlen remarked, "This is the most exciting time to be involved in hydropower development in my lifetime. The hydrokinetic technology development is very important to the growth of hydropower in this country. My priority is to be at the right place to capitalize on the tremendous growth opportunities that lie ahead for this industry. I think this is a 'once-in-a-lifetime' kind of opportunity, and the team I'm joining is well positioned to take advantage of it."
Mr. Youlen has 35 years of experience in the development and management of electric generation, transmission and interconnection facilities. Prior to joining Brookfield, Mr. Youlen was the former Managing Director of Hydroelectric Generation at Reliant Energy.
Mr. Youlen is a member of the board of directors and past president of the National Hydropower Association (NHA), and serves on the board of directors of the Independent Power Producers of New York. He is the 2009 recipient of NHA's Dr. Kenneth Henwood Award, the hydropower industries highest honor, and the 2007 recipient of the American Society of Civil Engineers' Rickey Medal for achievement in the field of hydroelectric engineering. He holds a bachelors of science in civil engineering from Rensselaer Polytechnic Institute and is a licensed professional engineer in the State of New York.
Dan Irvin, CEO of Free Flow Power Corporation commented "Dave fills a key position in our management team. We admire what he has accomplished over his career, have great respect for his talent and experience and are completely impressed at how clearly he sees the landscape in hydropower."
Via EPR Network
More Energy press releases